Areas of Expertise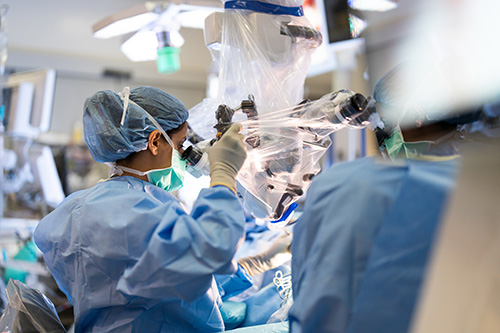 The Department of Neurological Surgery provides the full range of contemporary neurosurgical practice, and delivers compassionate, highest quality neurosurgical care to the people of San Diego, Southern California, and around the world.
Using a multidisciplinary approach, we provide care to diagnose, treat, and rehabilitate patients with neurological disorders. Our basic and translational research efforts advance imaging, surgical visualization, medical device development, and our fundamental understanding of neurologic disease through unique physiologic and histopathologic access opportunities.
UC San Diego is home to the only academic spine group in the region. Our multi-disciplinary, collaborative approach provides comprehensive management including robotics, endoscopic, stem cell and regenerative medicine, non-operative treatment, along with motion preservation procedures and fellowship-trained deformity experts in one location. Patients benefit from this sub-specialized team approach to care.
Through our world-renowned pain clinic, our team consists of specialists in non-operative pain control, alternative medication, and options to avoid medications and surgery. Thanks to pioneering, national leadership in minimally invasive surgery and non-operative treatments, patients benefit from reduced hospital stays and accelerated resumption of normal activities.
Our spine team performs advanced complex, and degenerative procedures with two fellowship-trained deformity surgeons and faculty who are leaders in the field of minimally invasive surgery. Along with spinal surgery, our team holds special interests in stem cell treatment for spinal cord injuries. Our faculty members provide state-of-the-art clinical and research participation in multiple stem cell trials for spinal cord injury.
UC San Diego serves a top destination for neurosurgical spine surgery for several reasons.  The institution is home to multiple state-of-the-art technologies used in modern spine surgeries, including real-time navigation, robotics, and high-definition microscopes.  Due to being part of a large healthcare setting, we are able to take advantage of collaborative efforts with providers from various departments such as radiology and radiation oncology, and form multi-disciplinary teams that vastly enhance patient care and outcomes.  
We provide compassionate, state-of-the-art care for patients with primary and metastatic tumors of the brain and spine. Working in close collaboration with specialists from the Moores Cancer Center (MCC), a National Cancer Institute (NCI)-designated comprehensive cancer center co-located on the Jacobs Medical Center Campus in La Jolla, as well as with physicians from other specialties at UC San Diego, we are able to develop an individualized treatment plan for each of our patients. 
Our philosophy is centered on a dedicated team approach that may include surgery, radiation treatment, chemotherapy, immunotherapy, or, when appropriate, simple observation. In addition to our physicians, the team includes social workers, psychologists, and nurse practitioners to help with the non-medical aspects that may be a part of experiencing these types of tumors. 
Radiology and pathology services are provided by dedicated, board-certified neuroradiologists and neuropathologists. Brain and spine tumor treatment depends upon advanced MRI techniques, including spectroscopy, perfusion, and functional imaging, which are all regularly performed. Analysis of tumor specimens, in conjunction with the UC San Diego Center for Advanced Laboratory Medicine, includes whole-genome sequencing of tumors. By analyzing all genes, we are able to choose an individualized plan of treatment, based upon specific mutations, for our patients. 
The UC San Diego Stroke Center is a world-renowned facility and the third Comprehensive Stroke Center in the country certified by the Joint Commission. UC San Diego Health is one of very few systems nationally to have two Comprehensive Stroke Centers. These designations reflect world-class processes and outcomes around the care of the most complex neurovascular patients. Our team offers the full breadth of open surgical and catheter based options to treat these conditions. Our research teams provide international thought leadership in these areas; every major neurovascular device adopted in the past decade was partially-developed or initial trainings performed at UC San Diego.
The UC San Diego Neurovascular team evaluates adults and children with critical, life-threatening cerebrovascular disorders including arteriovenous malformations, aneurysms, arteriovenous fistulas, spine vascular malformations, carotid stenosis, and strokes due to emergent large vessel occlusions. Volume outcome relationships are critically important for these conditions and our group is among the most experienced and published in the nation.
Facilitated by a unique, multi-disciplinary partnership with our stroke neurology and neurocritical care teams, tailored treatment plans are devised to meet the unique needs of each individual patient. 
UC San Diego is one of the most advanced centers for surgical epilepsy care in Southern California, and is the only accredited adult Level 4 Epilepsy Center in San Diego County.
Our epilepsy center provides state of the art epilepsy surgical care to our patient population. We have undertaken innovative surgical approaches to the management of these patients including being the first and only center in San Diego to implant the NeuroPace® Responsive Neurostimulation System (RNS) and to implant deep brain stimulation electrodes (DBS) for the treatment of epilepsy. Our access to cutting-edge technology like our intraoperative MRI suites allows us to utilize progressive techniques like MR guided laser interstitial thermal therapy (MRgLITT) for the minimally invasive treatment of epilepsy. These recently introduced innovative approaches have allowed us to re-invigorate interest amongst referring practitioners to our center as well as to patients themselves.
In a select number of patients, specialized surgery for the placement of intracranial EEG electrodes is undertaken. This may be performed via a craniotomy for the placement of strip, grid, and/or depth electrodes, or may be performed in a minimally invasive fashion using the stereotactic EEG (SEEG) method. The latter procedure was recently innovated to allow for many channels of intracranial recordings in a minimally invasive fashion. Our center performs approximately 10-15 procedures of this type per year, ranking us amongst the top programs in the country.
A Designated Level 4 Epilepsy Center
While often presumed a last resort, surgery can be performed as a highly effective therapy for epilepsy, movement disorders (such as Parkinson's disease and essential tremor), and certain pain syndromes (trigeminal neuralgia). This type of surgery is called functional neurosurgery. Our faculty have extensive experience and training in functional neurosurgical techniques including microsurgery, deep brain stimulation, vagal nerve stimulation, awake brain surgery and stereotactic radiosurgery.
The Division of Pediatric Neurosurgery at Rady Children's Specialists of San Diego provides treatment for disorders of the brain, spine, calvarial vault, and peripheral nerves. More surgeries are completed at Rady Children's Hospital each year than at any other facility in the United States. It is additionally one of the top 5 largest children's hospitals in the United States. Whenever possible, minimally invasive procedures are used, with the assistance of highly advanced technology.
The Division is among a select group of pediatric programs using Visualase laser ablation technology and the ROSA surgical robot to perform minimally invasive tumor and epilepsy surgery.
Rady Children's Hospital is also one of the only children's hospitals using three-dimensional endoscopy for complex surgical approaches. Infrared and virtual technologies, along with 3D endoscopes, are used in performing minimally invasive procedures to remove brain tumors. Three-dimensional applications of magnetic resonance (MRI) and computed tomography (CT) imaging with stereolithographic models help surgeons to perform complex cerebral vascular surgeries and craniofacial reconstructions.
UC San Diego is one of the national leaders in the treatment of intracranial brain tumors and other diseases of the lateral skull base. In addition to acoustic neuromas, also called vestibular schwannomas, we treat tumors including meningiomas, cranial nerve schwannomas, chordomas, chondrosarcomas, and other rare tumors, including those associated with neurofibromatosis type 2 (NF2). We also treat disorders of the cranial nerves and disorders of the bones of the base of the skull.
Skull base tumors are generally treated with surgery, focused (stereotactic) radiation, or some combination of the two. Some benign and very slow-growing tumors can safely be observed with MRIs, avoiding any active treatment. Patients with malignant or otherwise aggressive tumors may be treated in conjunction with our colleagues in neuro-oncology at the Moores Cancer Center.
The acoustic neuroma program at UC San Diego has a national and international reputation for the management of these tumors. We are the highest-volume center for the treatment of acoustic neuromas in the United States, treating patients around the world.
We take a patient-centered approach to all of our patients with skull base problems. All patients undergoing treatment for acoustic neuromas at UC San Diego are evaluated by our audiologists and physical therapists, and specific plans are made to maximize recovery and quality of life. For patients with baseline or transient dysfunctions, we work in close collaboration with facial nerve specialists in the Division of Head and Neck Surgery, who provide state-of-the-art rehabilitation of any facial nerve disability.
We further offer highly specialized approaches to meningiomas involving the lateral skull base and adjacent areas. We frequently employ a team approach in the management of patients with these tumors. Our ultimate goal is to get all of our patients back to their lives. 
UC San Diego is a destination center for patients with tumors involving language and motor areas that require awake craniotomy with sophisticated mapping procedures. We therefore maintain a strong partnership with our colleagues in Neuropsychology. Every element of clinical care for patients with complex brain tumors can be discussed among a multidisciplinary group of experts to facilitate the best outcome for each patient. 
The Anterior Skull Base and Pituitary Surgery Program is also centered in Moores Cancer Center. This program provides unparalleled minimally invasive surgical care for complex skull base tumors such as meningioma, chordoma and craniopharyngioma as well as both functional and nonfunctional pituitary tumors.
Functional or hormone-secreting tumors causing acromegaly and Cushing's Disease are a key focus of the program. Like the intrinsic tumor program described above, the pituitary program maintains a close relationship with UC San Diego endocrinologists and ophthalmologists to provide comprehensive anterior skull base care. Similarly, we hold a regular Multidisciplinary Pituitary Conference where the optimal treatment strategy for challenging new cases and complex recurrent tumors can be discussed.
UC San Diego is one of few centers in the country offering the expanded endoscopic endonasal approach (EEA). There is a program-wide initiative focused on clinical outcomes associated with modern minimally invasive techniques such as endoscope-assisted craniotomy and laser interstitial thermal therapy (LITT).
As a destination center, the program has remained on the cutting edge of technology and innovation in neurosurgery. The current suite of neurosurgical operating rooms offers intraoperative MRI (iMRI) and full 3D/4K technology allowing the integration of advanced imaging such as functional MRI (fMRI) and diffusion tensor tractography for advanced surgical planning.