Educational and Elective Opportunities
​Educational Series
UC San Diego Neurological Surgery dedicates 2-3 hours every Friday for its educational mission. This time is divided into Grand Rounds, Resident Didactic Sessions, a monthly Morbidity & Mortality (M&M) Conference, monthly interdisciplinary presentations, bi-monthly Department case presentations, and guest lectures. Our dedicated academic teaching is continuously evolving to meet the needs of the Department and reflects the rich diversity of expertise at UC San Diego. Topics range from allied specialties including neuroradiology and neuropathology to basic and translational neurosciences. Regular feedback is solicited from both the faculty and residents, and adjustments to the programming are made accordingly.
For scheduling information and to join our distribution list, please email Cha Esguerra at cesguerra@health.ucsd.edu.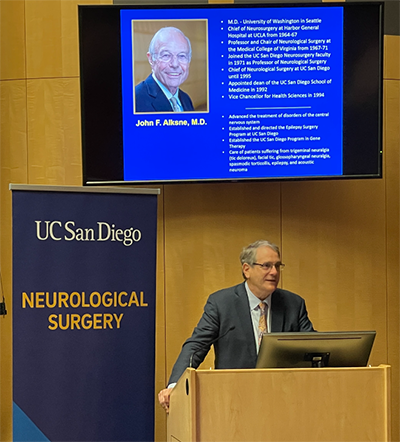 Every Friday from 8am to 9 am
Grand Rounds programming represents the flagship educational offering for the Department. Content includes robust interdisciplinary conferences and regional, national, and international visiting professorships.
Every Friday from 9am to 10am
Didactic sessions provide for weekly direct faculty-resident education and mentorship. During these sessions, one faculty member leads the residents in a round-table discussion centered on subspecialty research topics or core subjects in preparation for neurosurgical board examination.
Once a month from 10am to 11 am
Dr. Raj Murali, a senior faculty neurosurgeon, assigns several recent articles from neurosurgical literature for resident presentation and critical interpretation. These journal clubs ensure participants remain informed of the neurosurgical state-of-the-art and become discriminating consumers of clinical trial data.
First Friday of every month
This confidential peer-review conference examines cases within the Department where morbidity and mortality occurred.
Second Friday of every month from 8am to 9am
Our joint conference with the Neuropathology and Neuroradiology Departments provides an integrated educational presentation of rare pathology. These conferences further include cutting-edge genetic and sequencing technologies to inform treatment of CNS tumors.
Courses, Programs and Rotations
SNS Bootcamp
UC San Diego Neurological Surgery, with leadership of Dr. Joseph Ciacci and Dr. Alexander Khalessi , has led in national neurological surgery educational initiatives as part of the Society of Neurological Surgeons (SNS) Residency Boot Camp Courses since their inception. For the last seven years, the boot camp has taken place at UC San Diego's Center for the Future of Surgery. Through these courses, UC San Diego Neurological Surgery has led a large contingent of neurological surgery residents from the Western United States, and hosted top faculty from institutions nationwide.
CNS Minimally Invasive Course
The Congress of Neurological Surgeons (CNS) Minimally Invasive Cranial Course is directed by Dr. Thomas Beaumont and held at UC San Diego's Center for the Future of Surgery. This course is designed for general practicing neurosurgeons who wish to introduce or expand the use of minimally invasive technologies and approaches to their cranial practice. The 2-day intensive course includes a combination of lectures, case-based discussions, and cadaver dissections. Topics covered include: endoscopic evaluation of ICH, stereotactic navigation and exoscopic techniques for subcortical surgery, and laser interstitial thermal therapy for epilepsy and oncology indications.
Spinal Robotics Curriculum
As a key opinion leader in the rapidly developing field of spinal robotics, Dr. Martin Pham , along with UC San Diego Center for the Future of Surgery, has partnered with Medtronic to deliver surgeon education courses on how to best utilize these technologies in practice. These courses include live surgery observation, cadaver instruction with the robotics platform, and software demonstrations to tailor surgical planning to individual patient care. In addition to these in-person workshops, online podcasts and lectures on robotic spine surgery are also available for download. Dr. Pham has piloted a global outreach surgeon education program in Nairobi, Kenya to help local surgeons better treat advanced spinal conditions.
Other trainings offered:
Endoscopic Evacuation of Intracerebral Hemorrhage
Brain AVM Embolization with Liquid Embolics
Train the Trainer Course in Device Technology
SURG 454 Neurological Surgery Sub-Internship
Fourth year UC San Diego and visiting medical students from outside institutions may enroll in SURG 454, Neurological Surgery Sub-Internship. Our own UC San Diego medical students may enroll in the course directly via MedHub. Visiting medical students may apply through official channels.
Goals for this rotation will include the development of technical fundamentals and the acquisition of neurosurgical skills. At the conclusion of the rotation, students will have an opportunity to present a Grand Rounds on a topic of their choice.
The Visiting Student Program is the office that coordinates clinical experiences for all senior (fourth year) visiting medical students. Visiting medical students may only be placed in a clinical opportunity at UC San Diego Health through the Visiting Student Program and can visit UC San Diego's Visiting Senior Students website to learn about the application process and requirements.
The Visiting Student Program and the Department of Neurological Surgery Course Director, Dr. Martin Pham , review applications to determine offers based on availability. However, all applicants must be "cleared" by the Visiting Student Program and muse ensure successful completion of application requirements.
AAMC VSAS (Visiting Student Application Service)
Course Description
Students will be exposed to patients with acute and subacute neurosurgical conditions in the fields of trauma, brain tumors, arteriovenous malformations, aneurysms, and spine disorders. The location of these patients will permit the clerk to work in the neurosurgical, trauma, and pediatric intensive care units, neurosurgical intermediate unit, and wards.
Students present on rounds and prepare conferences. These are didactic lectures and require reading. Major teaching by faculty and house staff. Performance is assessed by day-to-day assessment and questioning by faculty.
Contact Information
Resources
MS3 Neurological Surgery Selective
During their required third year surgery rotation, medical students have the opportunity to spend one month on the neurological surgery service where they gain exposure to all neurosurgical sub-disciplines across a wide spectrum of practice environments. Students will be exposed to the surgical treatment of cerebrovascular diseases, brain and skull base tumors, neurotrauma, and complex spine surgery. Dedicated time at Rady Children's Hospital further provides exposure to all aspects of pediatric neurological surgery. For students interested in pursuing residency training in Neurological Surgery, this selective provides an excellent foundation for a neurological surgery sub-internship during the fourth year.
Endovascular Fellowship
The CAST-certified 2-year Endovascular Neurosurgery Fellowship at UC San Diego is a rigorous training program consisting of progressively independent hands-on clinical experiences augmented by computer-based simulation at our Center for the Future of Surgery. Trainees completing the program will feel comfortable with the management of all ischemic and hemorrhagic neurovascular conditions affecting both adult and pediatric patients.
Our fellows are exposed to cutting edge techniques utilized in the treatment of aneurysms, arteriovenous malformations, arteriovenous fistulas, and vaso-occlusive disorders including carotid stenosis, intracranial atherosclerosis, traumatic dissections, and intracranial large vessel occlusions. Training sites include UC San Diego Health's two Comprehensive Stroke Centers in Hillcrest and La Jolla.
In addition to clinical responsibilities, fellows are expected to teach junior residents, engage in research, and stay abreast of recent literature. The academic calendar of both the Department and the University offers a broad array of educational opportunities, including weekly Grand Rounds, case conference, and research seminars.
Upon completion of our training program in Endovascular Neurosurgery Fellowship, our fellows are well-positioned to not only manage the most complex cerebrovascular disorders, but also direct the future of our specialty. It is an immersive, high volume training program.
Qualified candidates from multiple specialties are welcome to apply. Generally, a candidate should be near the end of an ACGME-certified residency or fellowship and have had general training in clinical neuroscience as well as specialized training in neurocritical care, stroke, and neuroradiology.
The UC San Diego Endovascular Neurosurgery Fellowship is accredited by the Society of Neurological Surgeons through its CAST fellowship certification program.