Clinical Trials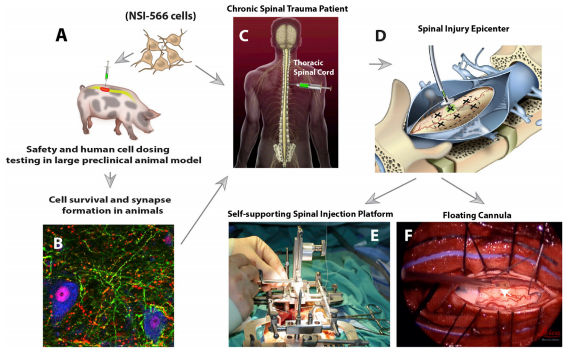 The UC San Diego Department of Neurological Surgery and its faculty offer clinical trials for patients with brain tumors, stroke, spinal cord injury (SCI), epilepsy, trauma, and movement disorders. The faculty is active in bioengineering and device development. In addition, the Department has an active and productive outcomes research program focused on processes of care and the development of care-delivery systems. These efforts set national quality standards. The Altman Clinical and Translational Research Institute (ACTRI) at UC San Diego is a leading CTSA-funded translational research institute nationally.
Ongoing clinical trials are listed at clinicaltrials.gov, and include a first-in-human neural stem cell transplantation for treatment of chronic spinal cord injury (SCI), spinal intradiscal stem cell injections for chronic back pain, an implanted scaffold for acute spinal cord injury, and a study of novel electrodes for neuromonitoring of the spinal cord. We are planning 3 additional stem cell clinical trials for spinal cord injury in the acute, subacute, and chronic phases. In addition, we are planning a clinical trial using novel electrodes for spinal cord monitoring and stimulation in patients with SCI.
Neurosurgical oncology faculty, along with our partners at Moores Cancer Center, participate in a number of clinical trials including immunotherapy, emerging targeted therapies, biotherapeutics such as oncolytic viruses as well as trials for laser interstitial thermal therapy (LITT) and innovative new approaches to the delivery of radiation.
Clinical Trials at UC San Diego
Clinical trials apply insights from populations of similar patients to the care of the individual. UC San Diego regularly initiates and enrolls in path-defining clinical trials that are identifying tomorrow's cures. Our commitment to this research is one more way we put patients first.  Read more about the clinical trials at UC San Diego
FOCUS16-487 Video Abstract from JNS Publishing Group on Vimeo 
Altman Clinical and Translational Research Institute
Visit the Altman Clinical and Translational Research Institute website