Research Spotlight
Sex-Specific Epigenetics in Cancer
Najla Kfoury-Beaumont, MS, PhD 
Sex can be an important determinant of cancer phenotype and exploring sex-specific tumor biology holds promise for identifying novel therapeutic targets and new approaches to cancer treatment. In an established isogenic murine model of glioblastoma, we discovered transcriptome-wide sexual dimorphism in gene expression that was correlated with sex differences in H3K27ac marks, large Brd4-bound enhancer usage, and Brd4 localization to Myc and p53 genomic binding sites. These sex-specific differences in gene expression were also evident in human glioma-like stem cells.
The sex-specific differences in Brd4-bound enhancer usage in murine glioblastoma astrocytes led us to hypothesize that these enhancers might control the observed differences in stem-like cell clonogenicity and tumorigenicity. We found that male and female GBM cells exhibited opposing responses to pharmacological or genetic inhibition of Brd4. Brd4 knockdown or inhibition decreased male GBM cell clonogenicity and in vivo tumorigenesis, while increasing both in female GBM cells. Furthermore, male GBM cells are significantly more sensitive to BET inhibitors treatment than are female cells. Thus, for the first time, Brd4 activity is revealed to drive a sexually dimorphic stem cell and tumorigenic phenotype, resulting in diametrically opposite sex-specific responses to BET inhibition.
This has critical implications for the clinical evaluation and use of BET inhibitors in clinical trials. Defining the mechanisms by which Brd4 might function like a tumor suppressor or an oncogene will be critical to understanding Brd4 function in cancer and for identifying patients most likely to benefit from Brd4 inhibitor therapy. By using sex differences in tumor cell phenotype as a tool to better understand cancer risk and progression, I hope to ultimately develop sex-specific therapies to improve the survival for patients with glioblastoma. Further work examining the enhancer landscape will be helpful in stratifying patients for targeted therapeutics and will contribute to the foundation of precision medicine.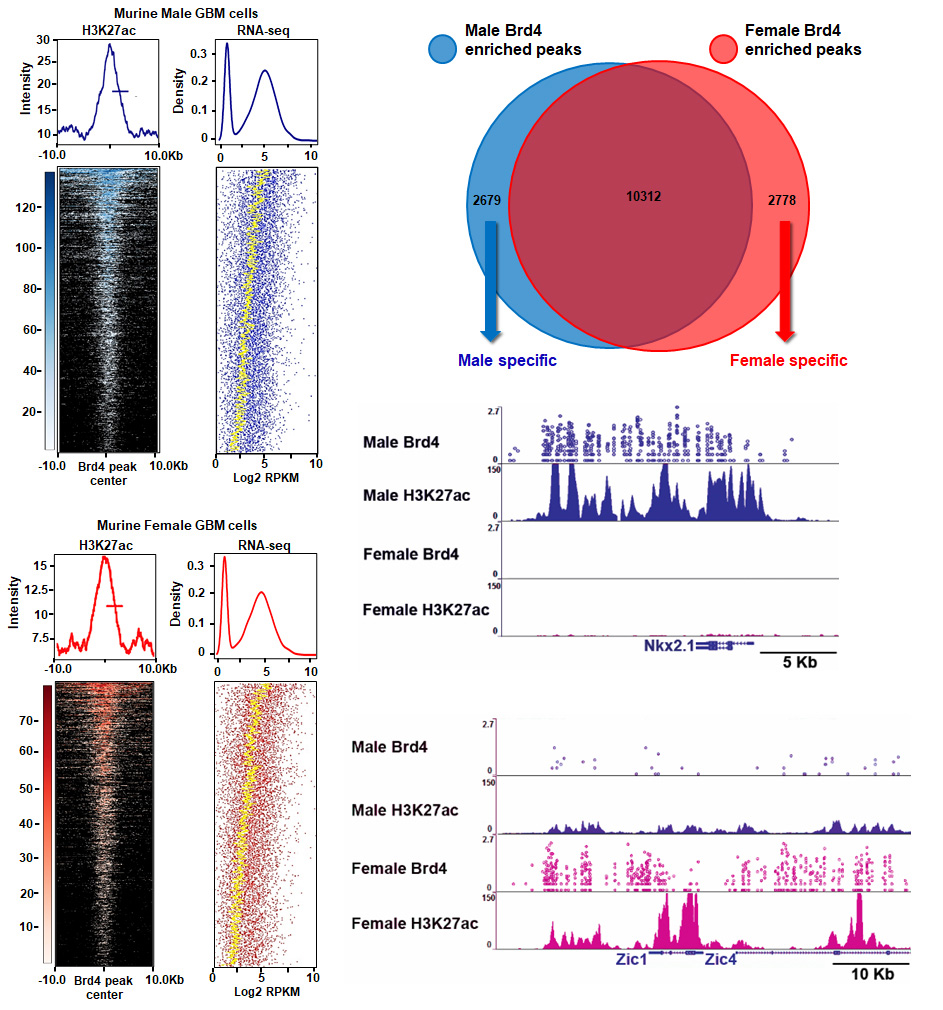 Dr. Najla Kfoury-Beaumont's research interests extend across cancer biology, development and epigenetics with special emphasis on sexual dimorphism in glioblastoma (GBM). The main goal of her research is to understand how sex differences in epigenetics impact cancer risk and treatment.
As part of the Brain Tumor Epigenetics Laboratory at UC San Diego, Dr. Kfoury-Beaumont's research investigates sex differences in GBM biology that impart females with lower incidence for GBM and enhances responsiveness to therapy and males with increased risk for GBM and resistance to therapy. This approach to understanding the effects of sex differences on genetic and epigenetic alterations in tumorigenesis will be fundamental for developing personalized, sex-specific therapeutic strategies.
Dr. Kfoury-Beuamont's long-term research interests include the study of epigenetics and transcriptional mediators of sex differences in cancer. She expects that truly personalized treatment for brain tumors will require sex-specific therapeutic strategies and that failure to address this level of disease heterogeneity significantly contributes to the lack of success with treatments thus far.