Education
UC San Diego Neurological Surgery remains the only academic program in the region that offers an extensive range of graduate medical education, fellowships, and research training. Anchored by a world-class residency training program, UC San Diego Neurological Surgery serves as a destination for both excellence and innovation in clinical care, research and education.
Commitment to Equity, Diversity and Inclusion (EDI)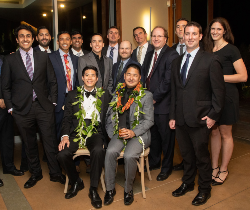 As a growing Department whose mission is to educate the neurosurgical leaders of tomorrow, we are devoted to ensuring that the future of our specialty is maximally diverse and equitable, and that we consistently lead with respect, integrity, and inclusion.
We invest heavily in creating a multi-faceted future of our specialty through our residency and medical student educational programs. Our alumni and current residents are diverse in training background, gender, ethnicity, and areas of neurosurgical subspecialty interest.
Our Department's leadership team, faculty, residents, and staff are committed to the shared goals of larger UC San Diego initiatives such as the Health Sciences Gender Equity Committee and the Anti-Racism Coalition.